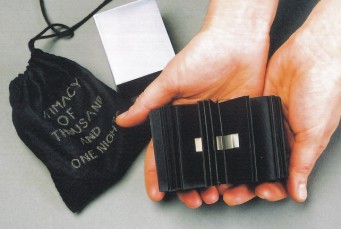 "Intimacy of thousand and one night"
In most of my books, their content transforms or vanishes. It is not however a destructive power of time" but rather filling some area of time with presence – an active form of being. Experiencing a book (both on mental and sensual levels) is not separated from a biographical time, and as such it leaves traces both in the viewer and the object created only to stimulate his imagination and sensitivity.

The first of my books, in which reading is no longer a "neutral" to the object activity was "Intimacy of thousand and one night" with the lightsensitive paper changing each time while exposed, going through the centres of black pages of the book.